Water Puppet Show with Buffet Dinner from Hanoi
Asia » Vietnam » Hanoi » Hanoi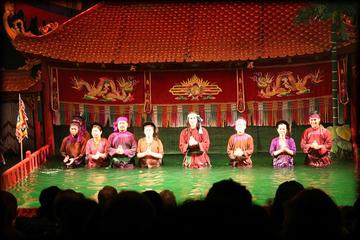 (5.0)
Duration: 4 hours
Departs: Hanoi, Vietnam
Price from USD 59.00
Book Now
See a water puppet show at a Hanoi theater followed by a delicious buffet dinner featuring a variety of Vietnamese dishes. You'll glimpse Vietnam's past as you watch these wooden puppets come to life on the water's surface on stage, then choose from a selection of mouthwatering plates at Sen Tay Ho restaurant. Explore Hanoi by night with a brief stop at a local market before the cultural show begins! Numbers are limited to eight people, ensuring an informative experience with a small group.
Upon pickup from your Hanoi city hotel, your 4-hour tour begins with a trip to a local market, followed by the evening performance at either Thang Long Water Puppet Theatre or Bong Sen Theatre, depending on availability.
Water puppetry originated in the villages of northern Vietnam, and Hanoi is the best place to see it! Performed in a pool using the water surface as the stage, this enchanting 50-minute water puppet show offers a unique look into rural Vietnamese life and folklore, and showcases an important part of Vietnamese culture.
Watch water puppets come to life with traditional legends and historical tales dating back as far as the 11th century. You'll see as many as eight puppeteers standing in a waist-deep pool while controlling the lacquered wood puppets with long bamboo rods and string hidden beneath the water — an effect created to entertainment villagers during festivals when rice fields flooded.
Your guide helps your small group understand the storyline as a traditional Vietnamese orchestra — including cymbals, horns, gongs and bamboo flutes — provides musical accompaniment to the singers.
After the show, head to West Lake for a delicious Vietnamese buffet dinner at Sen Tay Ho restaurant. At this exquisite location, enjoy the French Colonial ambiance of Hanoi's past as you dine on northern and southern Vietnamese dishes such as spring rolls, fresh seafood, pork belly stew and pork belly noodle soup before a dessert sampling to top it off.
Your evening in Hanoi ends with drop-off at your hotel.
« All Activities