Hoi An Old Town Food Tour by Night
Asia » Vietnam » Hoi An » Hoi An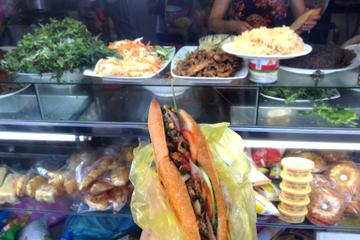 (5.0)
Duration: 2 hours 30 minutes
Departs: Hoi An, Vietnam
Price from USD 18.90
Book Now
Explore the Old Town of Hoi An while the sun goes down and sample enough food for dinner. You'll venture into a maze of bustling markets and alleyways on this 2.5-hour walking tour. Discover hidden, local food spots while a knowledgeable guide informs you about the city's unique food culture. Taste unforgettable dishes at every turn, from market stalls, restaurants and local cafés. Numbers are limited to 12 people, ensuring a personalized experience with a small group of fellow food lovers.
After meeting your small group in Hoi An, follow your knowledgeable local guide on foot from one Old Town favorite to another. Start your food walking tour at a local bakery where you can fire up your taste buds with the tastiest banh mi in town — a scrumptious baguette sandwich using fresh local ingredients.
Afterward, take a seat at a small eatery to devour hot and crunchy banh can crackers, served with quail eggs, pork and salad. One of the highlights of the local food scene, this dish is an absolute must-eat.
Continue into the heart of the city and head straight for the atmospheric central market, filled with hundreds of street hawkers and food stalls. Let your guide walk you through the colorful array of local ingredients including fresh noodles, sweet jelly, seasonal fruits and live seafood. Learn about Hoi An's most popular dishes and the significance of these foods to the traditional culture of central Vietnam.
From here, pass through a maze of alleys to a restaurant featuring in two Hoi An specialties: deep fried wonton and white rose dumplings. After you sample some, take a break to visit a thousand-year-old well that is considered by locals to supply the best water for making cao lau, a delicious noodle dish.
Enjoy a buffet of fresh food at a vegetarian restaurant, but be sure to save space for mussel salad at another hot spot, followed by dessert in a local's home — a real treat.
Conclude your Hoi An food tour with a Vietnamese coffee or beer at a riverfront café, and take in the spectacular night view of the iconic Japanese covered bridge.
Special Offer - Book by 15 January 2016 to save 30% off our previously offered price! Travel dates valid until 31 March 2016. - Book Now!
« All Activities